Flora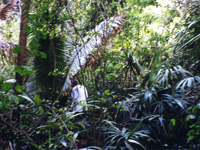 I may be some time: Ray wanders off into the bush. Taken by Jenny Saul in 2003 with a Canon Elph. Click for bigger picture
Sure, the snakes & scorpions get the press for what's dangerous when you're in the rain forest. But they run away from you. What doesn't run away? You're allowed one guess.
That's right: the plant life. The flora. It's not all dangerous, of course. But lots of it is, and you have to be very careful around it.
The flora is the ever-present fact of life when you're in the rain forest. It literally feels like its enveloping you: have a look at some of the panos I made, and look all the way up. Greenery surrounds you.
I was especially struck with the flora in 2003, possibly because the weather was slightly nicer (less rain), and so things were blooming a bit more fully. It's amazing to see massive bromeliads attached to trees in their natural habitat (and looking a hell of a lot better than when I try to grow them). But even more quotidian elements like vines — shades of Tarzan! — can't help but fascinate.
More flora