Fauna
The PfB Field School is situated in the middle of a protected rain forest (the Rio Bravo region in Orangewalk District, Belize). As such, you get all sorts of amazing things running around: monkeys, scorpions, cats, snakes, even wild pigs (peccaries). It's all gorgeous, truly gorgeous. You won't see all of them (such as the cats — you'll see them when they allow you to), but they're out there.
Howler Monkeys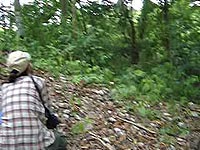 What a sound! A nearby howler makes its presence known. Taken by Jenny Saul with a Pentax Optio S4. Click above to view movie (4.1 MB)
Oh, do they howl—or, more accurately, roar. You can hear them from miles away, and in the mist of virtually every morning (and throughout the night!) you're greeted with their calls. We heard a great story about someone visiting several years ago: this individual prided himself on being tough & fearless, but he didn't know about the howlers. One morning, when they started roaring, he ran out of his tent terrified, looking for all the world like he was expecting a pride of lions to attack. Luckily we knew what they sounded like so we were prepared.
When they were out in the field, a group heard a howler very close by. They couldn't quite see it, but they could hear it. Jenny Saul took a video with her Pentax Optio S4. There's something a bit Blair Witch Project about it. In the video, you can hear Jenny goading her mother, Julie Saul, to call to the howler. Yoav thought that perhaps it was giving birth, but others aren't so sure. On another occasion, Yoav did get a quick snap of a howler with his Canon PowerShot A70.
Please note: you will need at least Quicktime 5.0 to view the movie. If you don't have it, go download it — it's free from Apple.
More fauna